North Carolina State Veterans Homes
The NCSEA has chosen the North Carolina State Veterans Homes as one of its State Major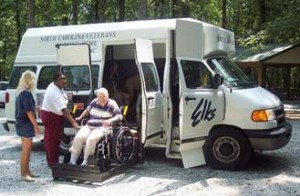 Projects. The Elks of NC have volunteered countless hours to ensure the needs of our senior veterans are provided for on a daily basis. In addition, we have given over half-a-million dollars  in resources toward the Veterans homes in North Carolina. The Veterans homes had an immediate need for handicap accessible vans for transportation and we have provided each NC veteran home a van for that purpose. We have also put a television in every room at each of veteran homes in NC.
——————————————————————————————————–
State Veterans Homes
The State of North Carolina is proud to offer four, full-service, State Veterans Homes. They are located adjacent to the VA Medical Center in Fayetteville, on the W.G. Hefner Medical Center campus in Salisbury, Kinston, and at Black Mountain. Please call our office at (919) 807-4263 for further information. Our Primary mission is to provide high quality care to Veterans, which will improve their quality of life. At the North Carolina State Veterans Homes, we know how to meet the special needs of veterans. Dedicated to excellence, our highly skilled professional staff provides exceptional care and activities to enrich individuals.
Comfort and security, encourages independence, meets individual needs and emphasizes personal choice.
Comfortable, spacious accommodations in an attractive environment.
Care provided by registered nurses, licensed practical nurses and certified nursing assistants under the direction of licensed physicians.
Registered dietician on staff.
Experienced social workers to assist Veterans and families.
Veterans Service Officer to assist Veterans and families in applying for VA Benefits.
Licensed by the State of North Carolina and approved for Medicare, Medicaid and third party insurance.
Complete team of therapists provide physical, occupational and speech therapy within the facility.
Specially designed therapeutic recreational programs directed by activity personnel on each unit.
Full range of in-house activities, community outings and programs involving local volunteer groups.
Special programs throughout the year honoring Veterans.
Hospital care provided by either the VA Medical Centers or local hospitals.
Eligibility
We serve all qualified North Carolina Veterans. The rate of payment is based on the actual cost of care and the individual's ability to pay using available resources.
To be eligible, a veteran must:
Have served in the Armed Forces for other than training purposes.
Have been discharged under honorable conditions from the United States Armed Forces.
Have resided in the State of North Carolina 24 months prior to be date of application.
Be referred by a licensed physician and be in need of skilled nursing care.
Be disabled by reason of age, disease, or other reasons determined through a physical exam.
Our facility must be able to meet the need of the resident.
For information about the State Veterans Nursing Homes or assistance with the admission process, please click "here" to visit their website.
——————————————————————————————————–
North Carolina
Department of Administration
| | |
| --- | --- |
| Pat McCrory, Governor |           Bill Daughtridge, Jr., Secretary |
| | | | |
| --- | --- | --- | --- |
| Date | May 6, 2014 | Contact | Chris Mears, Public Information Officer |
| Release | Immediate | Phone | xxx-xxx-xxxx |
North Carolina Division of Veterans Affairs Thanks Elks Associations for Supporting NC Veterans
RALEIGH – May 6, 2014
Ilario Pantano, Director of the North Carolina Division of Veterans Affairs (NCDVA), was the keynote speaker for the NC State Elks Association Spring Convention on May 3 in Asheville, NC. There, he expressed thanks on behalf of the NCDVA to the national, state and local Elks Associations (the Elks) for their partnership and continued support of veteran residents at NC State Veterans Homes.
"The Elks have taken the initiative to ensure that our most vulnerable senior veterans are provided-for in a way that should make all North Carolinians proud," said Pantano. "From adopting veterans during the Christmas season to providing televisions and travel buses, the generosity of the Elks is heartwarming.  Their continuous day-to-day support and interaction with our veterans is incredibly valuable and ensures that our heroes are not forgotten."
In 1917, the Protective and Benevolent Order of the Elks dedicated themselves to serving veterans by building the first veteran hospital in support of the war efforts of WWI.  This support has continued both domestically and internationally with each US war and conflict. Their veteran outreach effort continues today in North Carolina as the Elks have donated countless volunteer hours and over half-a-million dollars in resources towards NCDVA's NC State Veterans Homes.
"Every year, throughout the year, the Elks are one of the greatest supporters of our Veterans," said James Woodard, Vietnam Veteran and Supervisor of the NC State Veterans Home Program. "For more than 12 years, the Elks have graciously included provisions for each State Veterans Home in their annual budgets. In addition, they have spent numerous hours visiting our veteran residents – listening to the heroic stories of service and survival, laughing, and crying."
The NC State Veterans Homes are located in Black Mountain, Salisbury, Fayetteville and Kinston. Some homes have received a 5-star rating by US News & World Report.